Meet Thomas S.
Respiratory Therapy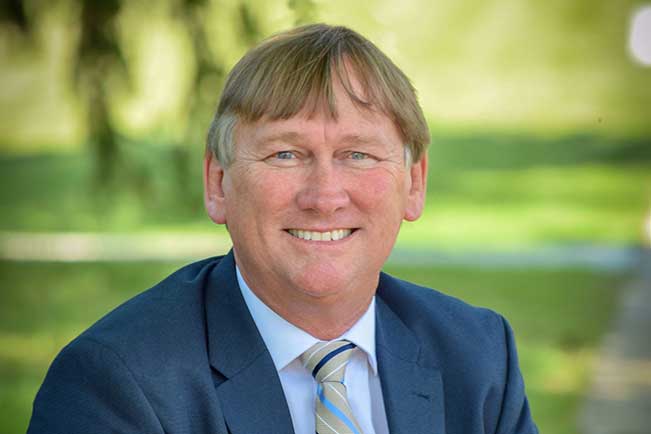 "Potential is great, but it's nothing unless you do something with it."
When a Hudson Valley Community College alum becomes the president of a college, it is an achievement worth celebrating.
Thomas Striplin, Ed.D., a graduate of Hudson Valley's Class of '81, has been serving as president of Eastern West Virginia Community and Technical College in Moorefield, West Virginia for the past two years. When he started right here in Troy, New York, he had a long journey ahead, but his innate leadership skills, immense dedication, and much-appreciated support system brought him to where he is today.
Lacrosse brought Striplin, a stand-out athlete, to Hudson Valley in 1979. Although he performed well on the field, his first year of college was a bit of a challenge, both financially and academically.
He expresses that the journey was truly challenging, and he credits some crucial individuals who provided unwavering support along the way. "During that time, my car was out of commission, and I owe a debt of gratitude to Patty Hyland (now the department chair for Cardiorespiratory and Emergency Medicine Department at the college) and others who offered to give me rides, as well as my roommate, who had a car and willingly assisted me. Without them, I doubt I could have succeeded. It's essential to realize that students often hesitate to share their struggles, but when someone, be it a faculty member, classmate, or friend, reaches out and offers support, it can be the decisive factor between triumph and failure."
Reflecting on his early days as a new student, Striplin recollects that, following each exam in the respiratory care program courses, the top three test scores were posted on the board. As a freshman, he never found his name on that list, acknowledging that he hadn't exerted the effort he knew he was capable of. However, everything changed when one of his professors took the time to have a conversation with him about his work and presented a challenge to his potential for success. This encounter served as a powerful motivation for Striplin to shift his mindset and prove others wrong about his true capabilities.
It's not just about having the potential, as Striplin now explains, but about actually doing something with it. After realizing he wasn't reaching his full potential, he worked much harder during his second year. As a result, his grades improved, he made the Dean's list, and he found himself always in the "top three" list on the board. He went on to earn his associate's degree in Respiratory Therapy, and left Hudson Valley with fond memories and a new set of goals.
"I loved being at Hudson Valley. I loved playing lacrosse there. It was my first time away from home, and it was a lot of fun," he says. "The education and teachers I had were all really great, and it was a good two years. I learned a lot about myself and what I needed to do."
But for Striplin, Hudson Valley was just the beginning. He went on to earn a bachelor's degree in Respiratory Therapy from Salisbury State University in Salisbury, Maryland; and both a master's in education in Health, Health Psychology, and Physical Education and a doctorate degree in Education in Educational Leadership from Frostburg State University in Frostburg, Maryland.
Before joining Allegany College of Maryland as a faculty member, he had an extensive background in healthcare, accumulating several years of experience. For an impressive 27 years, he served as the Director of Clinical Education in the Respiratory Care Program, reaching the pinnacle of his career as a full professor. Throughout his tenure as a professor, he dedicated himself to establishing meaningful connections with his students and recognizing the difficulties and obstacles they encounter during their college journey. He understood the significance of a simple conversation and the impact of genuinely caring for someone's well-being, realizing that such gestures could bring about life-changing transformations beyond imagination. In 2015, he earned the League for Innovation Faculty Excellence Award.
Striplin continued to progress in his career, eventually becoming the dean of Arts and Science at Allegany College. Additionally, he devoted several years to serving on the Allegany County Board of Education. Throughout his tenure, he made it a priority to be a genuine collaborator, valuing the importance of actively listening to others and acknowledging that challenges would inevitably arise.
"One of the biggest skills is acknowledging someone else's position in order to reach a shared understanding," he says. In fact, he's fond of the Abraham Lincoln quote, "In order to win a man your cause, you must first reach his heart, the great high road to his reason."
Today, Striplin embraces that spirit in his current role as president of Eastern West Virginia Community and Technical College, a position he was appointed to in 2021 and one that requires strong leadership, but also consensus building.
Striplin says he is really enjoying working as a president, and his previous experience in a variety of higher education roles has given him both knowledge of the college's programs, faculty concerns, student services and workforce demands, but also a strong ability to work with multiple audiences to accomplish mutual goals.
He also says he would describe himself as a "people president." "My leadership style is very different and innovative," Striplin explains. "I want to hear what you have to say. I want to hear your ideas. I want you to come to my office. Tell me how we can solve problems. I just try to make people feel comfortable."
Striplin prides himself on keeping his office open all the time for anyone to come in. "There is no barrier," he says. He likes getting to know all the people he's working with, so he is often out in the college talking to people in person and visiting different departments. "It's about getting people out of their office and getting people to feel like it's okay to speak up," he says. He hopes this approach will help him tackle any cultural issues that arise, and inspire people to work together as a team.
"One of the things I always tell the entire college community is that you are all owners of this college," he says. "This community owns this college. I don't. I'm just holding a different position. I'm the president, but, in reality, I'm just another person who's part of this organization. I happen to be at the top, but that doesn't make me any more important than the rest of the faculty or students. I'm here to do my part and ensure we reach our mission and goals as an organization."